District 6 Cross Country Championships (Joe Gironda)
| | | | | |
| --- | --- | --- | --- | --- |
| Class A (below) | | | | |
| 1A Girls Placers | | | | |
| | | | | |
| 1A Girls Team Champions - Marion Center | | | | |
| 1A Girls Individual Champ = Anna Stitzer, Penns Valley | | | | |
| | | | | |
| 1A Boys Placers | | | | |
| | | | | |
| 1A Boys Team Champ = Marion Center | | | | |
| | | | | |
| 1A Boys Individual Champ = Dillon Green, Marion Center | | | | |
| Class AA (below) | | | | |
| Class AA Boys Placers | | | | |
| 2A Girls Placers | | | | |
| 2A Team Champions - Central Cambria | | | | |
| 2A Girls Individual Champ = Annaliese Niebauer, Central Cambria | | | | |
| 2A Individual Placers | | | | |
| 2A Boys Individual Champ = Logan Strawser, Juniata | | | | |
| | | | | |
| Class AAA (below) | | | | |
| 3A Girls Team Champ = State College | | | | |
| 3A Girls Individual Champ = Marlee Kwasnica, State College | | | | |
| 3A Boys Placers | | | | |
| 3A Boys Team Champ = State College | | | | |
| 3A Boys Individual Champ = Charles Endres, State College | | | | |
| | | | | |
| | | | | |
| 3A Girls Placers | | | | |
| | | | | |
| | | | | |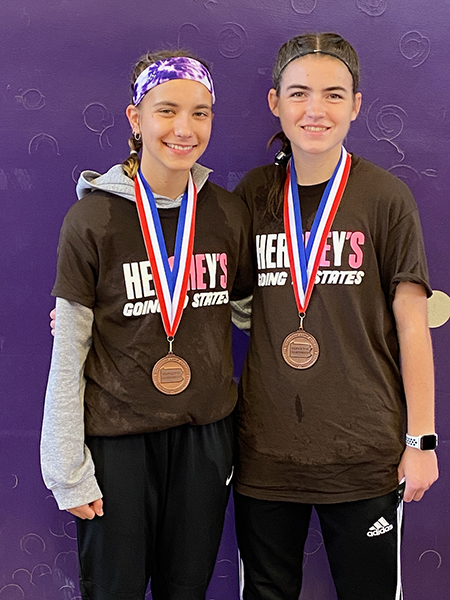 Kylee Cubbison & Addie Parson Mifflin County
both qualified for states (photo from Coach Neil Brenemen)

D6 Girls' Results
Cross Country coaches: registration for the 2021 D6 Cross Country Championships
is now open on MileSplit.
Registration instructions, and a helpful Online Meet Reg Instructions link to assist coaches.
Milesplit details (NOTE Oct 25th deadline for entries.)
2021 District 6 Cross Country Championships. There are some changes, so please be sure to get this to your coaches so they have the opportunity
to review the information and ask questions.
Any and all questions regarding the D6 Cross Country Championships should be sent to jgironda@fhrangers.org.

As a reminder to 3A schools, D6 & D4 will combine to form a sub-region:
3A Girls = Altoona, Central Mountain, Hollidaysburg, Mifflin County, State College, Williamsport
3A Boys = Altoona, Central Mountain, Hollidaysburg, Mifflin County, Shikellamy, State College, Williamsport

Last year we adjusted the Unseeded races to allow for each classification to run consecutively (Varsity Girls, Varsity Boys, Unseeded Combined) and then
leave the site in a timely manner. This seemed to be well-received, so we will do so again this year. The most notable change this year is the race order,
as 1A will run second, with 2A running the final races of the day. This was adjusted at the request of many 1A schools.
D6 Cross Country apparel information. Any and ALL questions regarding D6 apparel are to be sent directly to Jody Rainey at jrainey@homercenter.org.
=
..                    photo supplied by Neil Breneman Girls' Cross Country Coach
---